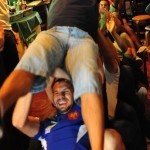 Tokyo – Sunday 2 October 2011
Vol 11-017
*FLAMBOYANT BACKS, IRON DEFENDING FORWARDS* Score : AFRC 50 – 10 Zenkai Beers Evolution du score : 5-0 (15′ – try Florian de CHABOT – not converted), 12-0 (22′ – try Thomas BYRNE – Conversion Matthieu DERYCKE and score at half time) , 17-0 (38' – Robbie WILLIAMSON – not converted), 17-5 (45′ – try Zenkai Beers – not converted), 17-10 (53' – try Zenkai Beers – not converted), 24-10 (56' – try Xavier LERIN – convertion Matthieu DERYCKE), 31-10 (59′ – Try Robbie WILLIAMSON – convertion Matthieu DERYCKE), 36-10 (64′ – Try Robbie WILLIAMSON – not converted), 43-10 (67′ – Try Matthieu ROSENBERG – convertion Matthieu DERYCKE), 50-10 (69′- Try Thomas BYRNE – Conversion Thomas BYRNE and final score). Equipe AFRC : Charlie BARLOW (cap), Kousuke YAMAMOTO, Joe HERBERT, Hirotaka KOSHI, Matthieu ROSENBERG, Laurent SERENA, Andrew GRAHAM, Benoit MOREAU, Alban FIDRY, Kazu NEW, Xavier LERIN, Matthieu DERYCKE, Florian de CHABOT, Philippe MIQUEL, Thomas BYRNE. Remplacants : Ken ISHIKURA, Toru HIGASHI, Jeremie ROUMEGOUX, Andrew GRAHAM, Dan CONNOR, Kazusaku KAMIYA, Robbie WILLIAMSON, Francois LAFAYE. Managers: Damien MARTY, Bruno LEROY, Alexandre MIROUX.
What a pleasure to have seen *such a back line with such a French Flair inspiration*!!! After 2 games already played, we may say that this season (so far) and last season are as different as chalk and cheese (c'est le jour et la nuit in French) since, last year, we were unable to make 2 passes in a row and everyone tried to play individually forgetting his teammate beside him, for a worthless effort when, this year, we have been brilliant with the ball spread to the wing, the full back coming in the attack line to create an outnumbered situation, players using switched passes, kicked passes, dummy passes. I also appreciated to see full support to the ball carrier. It helps to make fructify the superb runs in the defense of Dan CONNOR or Tom BYRNE who were able to pass the ball in the right tempo to a full speed running team mate. This change in ball handling has paid off since 7 out of 8 tries were scored by the backs yesterday. But, we cannot forget the dedication, I may even write the *sacrifice, of the forwards to protect our try line* in front of very powerful opponents, under constant pressure in scrums and mauls, during long minutes. This has contributed to frustrate the Zenkai Beers's big guys and have exhausted them in many worthless efforts. Another satisfactory point which has confirmed our feeling after our 1st game, was the *quality of our defense*. Xavier LERIN and Alban FIDRY among others were our Frog destroyers, having stopped immediately and without failure the attacks of the Zenkai backs. No try were scored nor by their backs, neither by their #8 who systematically tried to go ahead from behind his dominating scrum in unproductive efforts. We shall close the chapter of the satisfactory points by mentioning the hat trick of our new comer (Thanks Dan for this great recruitment. How much did it cost you in beers to have him signed?): Robbie WILLIAMSON, the extraordinary try of Matthieu ROSENBERG, when he run with the ball from half way line, raffutant (I do not remember the word in English), hitting hard the opponents on his way to score a try in the middle of the post. And the most spectacular action was at the credit of Toru HIGASHI who, at kick off, plunged to grasp the ball and make it available immediately to our backs for the last try of the game. Well, we must also confess that the *AFRC lost its nerves as well during the game* when we punched the face of a Zenkai Beers guy (Matthieu DERYCKE) or when we complained too much the decisions of the referee. This attitude led the man in black to give a yellow card to Matthieu ROSENBERG for a "minor" fault in line out. *We have to control ourselves both on the ground and out of the ground* (Bruno LEROY and Damien MARTY). Yes, we got poor referring, particularly at maul and ruck, but let me remember you that *there is a captain. Therefore, talk to him* if you have pointed out an unnoticed mistake by the referee before complaining or retaliating. Let me remind you that from this season, the *Shuto League ExCo as requested each team to comment the performance of the referee*. We have done it. The AFRC cannot become a great and respected team if we cannot control ourselves. A major challenge even for me who am a short tempered guy….
*ANALYSIS*: We got again a very good game from the AFRC with an iron defense from the backs then in 2nd half, 6 scored tries. Few line outs were badly negotiated and our forwards defended well.
On the bad points, once again, too many faults at ruck and mauls (14). Rules explanations are necessary at the next training on Thursday. Better ball handling with only 6 knock-ons.
*AFRC AWARD* The ex Co designated Tom BYRNE as *the best player* (3 votes) but 2 votes were credited to Alban FIDRY and one to Matthieu DERYCKE.
For the *Iron man award*, Matthieu ROSENBERG shares the leadership with Jeremie ROUMEGOUX.
For the *best try scorer award*, Robbie Williamson is ahead with 3 tries followed by Keith HUDSON, Xavier LERIN and Tom BYRNE 2 tries
For the *best player award*, Thomas BYRNE has catched up with Xavier LERINwith a total of 3 points
Photo of the Week-end:
The longest Paquito in all the Asian-Pacific Region (Saturday 1st October – Half time of the game France – Tonga RWC):
*NEXT MEETINGS: * Thursday 6 October (day of St Bruno) at 7PM: Training a Shin-Okubo Saturday 8th October at 4PM – Black Lion (Meguro) – Rugby World Cup 1/4 finale France Vs England, Live Thursday 13 October at 7PM: Training a Shin-Okubo Sunday 16 October – Shuto league game Vs Gentle Giants.
Bruno Credit Photo: Mickael "Mike" GRAS Photos of yesterday's game to come soon